I love my job. 'Have the greatest clients. Traveling's always a blast. And now technology's kind. Clean. Swift. Smooth. "What? Doing the voice over? Or driving the vehicle that serves as the sound booth?"
Both.
Since 1996, I've been voicing TV news and programming promos for network affiliates using commercial and home studio settings. As a certifiable news junkie and former producer, being tethered to bricks-and-mortar was OK by me. But then things began changing in Promo. ISDN sessions were replaced with self-directed mp3 files that are uploaded on the 'net. Not mandatory, but the ability to "quick-turn" (record/upload ASAP) is greatly appreciated and has become a hallmark of working with me. Rack-mounts shrunk, then gave way altogether to what now mostly fits in my purse. It's gotten so super-duper simplified that it's counterintuitive; i.e., "It can't be that easy."
It is.
Two years ago I started Wrangling Wrecording OTR — "On The Road"  — using one of the better sound proof environments available: the interior of an automobile. Current essential hardware weighs in at just over 5 pounds; add 9 oz. for the power adapter. Editing software options abound, but there's one so beautifully simple and efficient in keystrokes/mouse-clicks at only $79.90. Without trying, I evolved into paperlessness, thanks to an HTC droid (but iPad2 = less squinting). These PDAs' loving luminance means a script and I can "do it in the dark." More game-changing: mobile broadband. If 4G's illusive, Golden Arches or Coffee-Drinking-Mermaids are just a freeway exit ramp away.
Yes, I perform drive-by uploadings.
It's all… so… doable. 
"Sonny's Promobility" will document these experiences and what was done to surmount challenges when recording single-track, "dry" voice overs in non-traditional environments. I'll share circumstances and report intriguing encounters. In the meantime, you'll get glimpses of Roadside America when I'm OTR. And some "other stuff," too. I welcome your inquiries, experiences, tips and advice. I dig hearing about new equipment and tricks. And I completely expect the disapprobation of purists who think this is ridiculous.
They're right.
It is.
Ridiculous.
And satisfyingly in broadcast quality.
Many thanks for landing here. Please boomerang-back? I look forward to hearing from you.
TOMORROW: Shove-off on 3,650 roundtrip San Diego – Corpus Christi (15 days).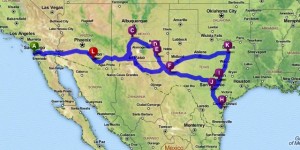 Note: Buttons below "Promobility" masthead will be operational with launch of overhauled www.sonnywarner.com in April. Stay tuned.